Burton 13 a video of an iconic year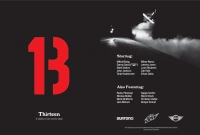 From the team that brought you Standing Sideways, comes the latest in snowboard cinematography from Burton Snowboards. 13 features footage from state-of-the-art cameras showcasing the world's top riders at locations around the globe including Whistler, Alaska, Lake Tahoe, Northstar-at-Tahoe, Heavenly, Sun Valley, and Europe.
Featuring Danny Davis, Mikkel Bang, John Jackson, Mark Sollors, Mikey Rencz, Jussi Oksanen, Terje Haakonsen, Jeremy Jones, Zak Hale, Ethan Deiss, Seppe Smits, Werni Stock, Roope Tonteri, and more!