Children's Snowboard Lessons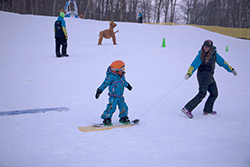 With the smallest gear on the planet – as soon as they can walk, they can snowboard. New kid-specific gear like Riglet Reels, which allow kids to be pulled around without unstrapping, and recent advancements in terrain-based teaching make learning to ride easier than ever. With our wide range of gear sized specifically for kids, having a good day on the hill is no longer a question.
We offer childrens snowboard lessons for kids aged 3 and up. Children's lessons are focused on fun through learning enabling the children to adopt the basics and progress in an exciting and stimulating environment.